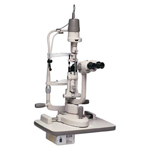 JP was born in 1994 as a company dedicated to marketing and manufacturing various products for optics, optometry, and ophthalmology.
Our company offers among others, refractor, slit lamps, projectors opto types, columns of refraction, with chair included autorefractometer, lensometry etc. During these years we have sold and installed large numbers of computers, Spain, and twenty other countries, with total satisfaction of our customers. Regularly exported to over twenty countries, among which include some of the most technologically pointers as USA, South Korea, or CANADA. We also offer a used equipment section, revised for its perfect operation.
Javier Bobes J.P. export-import S.L.